ALEX MIRUTZIU
PERFORMANCE & solo exhibition
presented in partnership with the Performing Arts Programme of the National Museum of Contemporary Art, curated by Ioana Paun
8 sept | 19:00 -22:00
@the national museum of contemporary art
Izvor 2-4, Palatul Parlamentului, E4 Wing
dignity to the unsaid
PERFORMANCE
SEPTEMBer 8 | 8 PM-8:30 PM
Alex MIRUTZIU
performance | 2017, Bucharest / Cluj-Napoca
performers | Alex Popa | Irina Sibef |Cosmin Stanila
work commissioned byBIDFF, supported by MNAC and Sabot Gallery
I intend to look into ways in which one of the most important novelist of the twentieth century managed to create meaning through an abundance of means, said and unsaid, which I call — manners of holding the world. The conceptual movement between said and unsaid, falls under the ever present fragmentation we manifest in holding the world as something like, a fatal aspect of our physical limitations. We fragment the world in order to understand and function within it. Such a fragmentation fails on the account of a world which is undifferentiated.
The performance includes the sound installation CAUSAL VARIATIONS FOR SOMETHING LIKE (computer-generated sound, 3 x multichannel audio), created by Elías Merino, a series of autonomous synthetic sound objects based on a relational tissue involving sound and human actors within Alex Mirutziu's performance frame. These sound entities are located/(un)located in the physical space hidden behind a mirrored appearance. Plasticity, non human dynamic entity, synthesis, irreducibility, discreteness, no objected, relation, ecology, temporal elasticity, rifts, disembodiment, algorithmic, sound sculpture, articulation, reductionism, structural gesture, permutation gesture, variation, no hierarchy, physicality, process of coexistence, miscommunication.
NO BLOOD BANK INCLUDED
personal exhibition ALEX MIRUTZIU
opening | september 8 | 7PM - 9 PM
Exhibition visiting dates/hours | SEPT 9 - 10 | 12 PM - 8 PM (regular museum ticket)
As long as against an artwork we position ourselves frontality, we tend to do so brutally charged and equally emotional. The works in the exhibition are impossible to be perceived frontally, be it visually or multi-sensorially, but only by detour, alas slowly digesting it to the point of loosing oneself. My most recent works move away from the logic of 'me' - 'here — 'the rest' - outside, and deal with uncertain dimensions which exhibits one/other meaning as well as with links of co-existence between multiple presences, approaches or appearances of the individual and of the world in which he/she belongs that cannot ever run out of steam.
Even when 'here' and 'now' structure our understanding, these are contaminated by an act of re-installment, or re-demarcation of the creative act. Demand joining efforts, multiple foldings.I insist in creating a climate that brings forth the likes of something to be later metabolised. This selection of works are part of such a mechanism of making meaning from proximity. I'm not interested in approaching this mechanism in a critical way, rather the contrary, due to the fact that critique entails a sort of way of looking at the object from the outside, short-circuited by spilling consciousness. It has not been proved that such a way of accessing reality has ever had enough stamina to be able to arrive at the end of a demonstration.
Alex MIRUTZIU & Pär ANDERSSON
video | 12 min | 2015 | I'm the Invisible Man - Stockholm, MNAC Bucharest
In lieu of a rhetorical investigative possibilities of a poem, myself (Alex Mirutziu) and Pär Andersson bypassed the existing infrastructures surrounding the politics of writing and reading.
STAY[S] AGAINST CONFUSION
Alex MIRUTZIU
video | 14:53 min | 2016 | Delfina Foundation, London
dancer_Joshua HUBBARD
film_Kassandra POWELL & Loukas ELARK
editing_Kassandra POWELL
"Stay[s] against confusion" looks at the relationship between Etc., accumulation and evidence. How is it possible to facilitate Etc. in live performance — the space after something ends is a real problem for the audience, hence printing types, as modest as they are, can make our surrounding disappear and make the world infinite.
Alex MIRUTZIU
recorded performance | 6:32 min | 2015 | The New Gallery of the Romanian Institute for Culture and Research in Humanities, Venice
It is central to ask the question: 'what performs?' To invest not only when you build, but most importantly to re-invest in the idea of the everyday. And every day the landscape is changed thanks to multiple agents.
Alex MIRUTZIU
performance for one hand and prepared poem | 9:49 min | 2013 | Sabot Gallery, Cluj - Napoca
Where is the poem refers to the concept of 'Bureaucracy of Objects' which in turn refers to the dynamics and politics of writing and reading, and to the dialectical understanding of their relationship, from production to reception.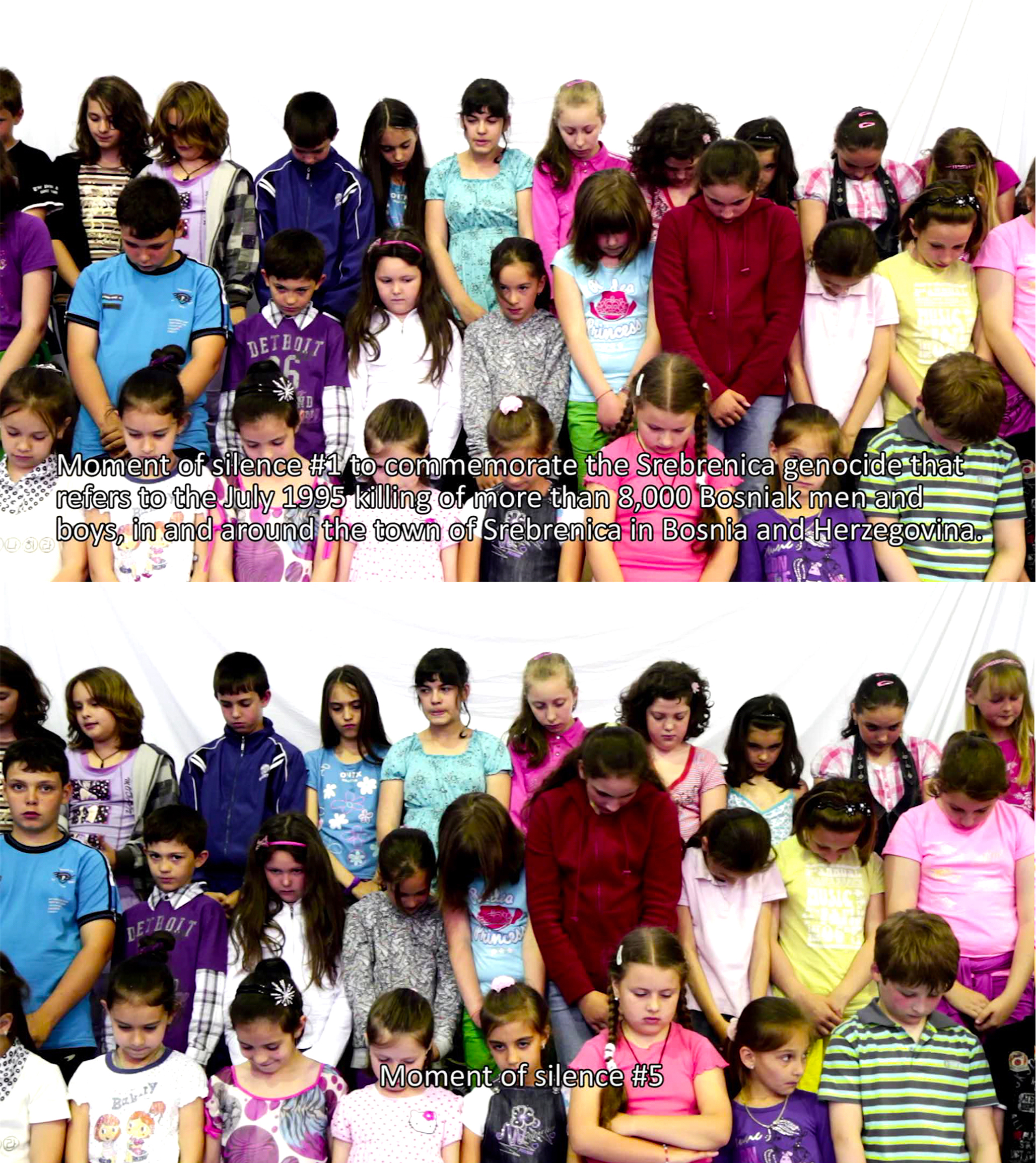 PENDING WORK #3 (MOMENTS OF SILENCE)
Alex MIRUTZIU
video | 15:38 min | 2011 | Rudiger Schottle Gallery, Munich
Pending Work #3 operates a memorial action instrumented by agents (children), whom, given their biological age, can't activate memories related to the historical events, that happened long ago their birth. In this manner, their action translates through gaining awareness over the event the public tries to handle and confuses them, creating an unease in an 'unseated' public structure, that wonders what is the their purpose of their presence.
FIVE MOMENTS OF SILENCE FOR PENDING WORK #7
Alex MIRUTZIU
recorded performance | 8:32 min | 2012 | IASPIS, Stockholm
If we take for example a moment of silence, which is the expression for a period of silent contemplation, prayer, reflection, or meditation—without a real material object to talk about, keeping moments of silence as in P.W.#7, not for a past event but for the events in consciousness that fill the plenum of now, reenacts the past object into the present by bringing it into consciousness. There is an overlapping tension here, as if in the past we directly experienced the event we are now mourning—we are faced with multiple objects which never coincide with a single finite one. Therefore, what we actually mourn is an image each of us create in the mind, an object to be dedicated to.
SCOTOPOLITIC OBJECT #2
FOR FIVE PERFORMERS AND ELECTROACOUSTIC IMPROMPTU
Alex MIRUTZIU & Elias MERINO
recorded performance | 4:50 min | 2014 | The Centre for Contemporary Art Ujazdowski Castle, Warsaw
My approach to performance places objects, individuals, textualities on the same level of influence in the world. The question is what performs, not who performs. What, and Why, not, who with whom. Hence the question - what makes us believe that we can translate an object- ideology / political event, etc. into an artistic form, while the subject/object is constantly engaged in a process of mutation?
CRITIQUE ON HOW TEMPLES MOVE FASTER THAN THEIR SHADOWS
Alex MIRUTZIU
video | 43:46 min |2010 | Mihai Nicodim Gallery, Los Angeles
This performance opens up fields of discussion embedded with what I call ideological practices allocated by culture, practices that lie in the verb status of art – in its immediacy, and ability to generate meaning and information within difference, between actuality and potentiality, between what is seen and what is said, what is done and what can be done - questioning how ideas are affected by the contexts in which they are produced.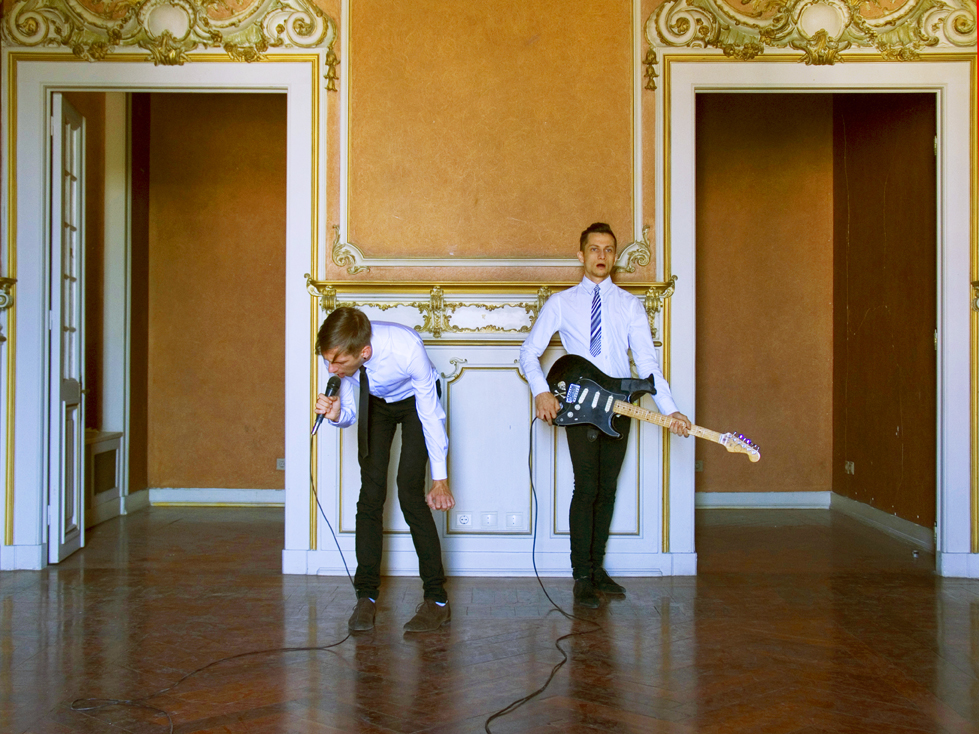 HISTORY IS NOTHING BUT MUSCLES IN ACTION
Alex MIRUTZIU & Razvan SADEAN
video | 26:18 min | 2011 | ZDB - Santa Catarina Palace, Lisbon
In this piece, we payed attention to the simple act of looking at each other sufficient enough to document a true form of love confined by time. In the nowness, looking at each other is all we can do, as the now-now is so instantaneous as to be practically non-existent.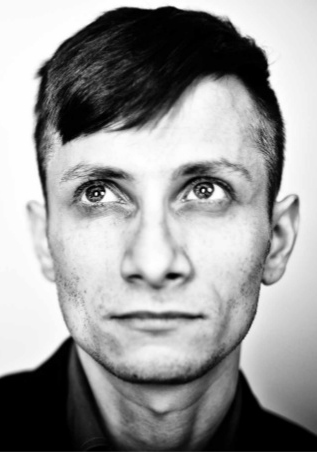 BIO
Alex Mirutziu was born in 1981 in Sibiu. He studied at the Art University, Cluj-Napoca, a city where he curently lives and works. In 2008 he studied physical theatre and performance atUniversity of Huddersfield, Great Britain. Alex Mirutziu's installation based performances and writings question the ways in which the space after something ends is orchestrated.
He uses design in its most bureaucratic sense, collecting imprints of personal and historical events, using understanding and sincerity as factors in the materialisation. He made a collective with a hyper-object — namely himself at 29 – and often operates within this structure. The collectives' modus operandi is retroactive irony.
The artist frequently lectures on performance alongside his current theoretical practice (Royal College of Arts, London, Von Kraal Theatre, Estonia, Konstfack, Stockholm, Bezalel University of Art and Design, Tel Aviv) and collaborated with artists/writers/musicians/designers/philosophers among which, Grit Hachmeister (DE), Paul Devens (NL), Elias Merino (ES), Graham Foust (US), Graham Harman (US). Recent projects have been hosted by ZDB, Lisbon, Power Plant, Toronto, The Glass Factory Lab, Boda, Mucsarnok Kusthalle, Budapest and the Center for Contemporary Art, Warsaw, National Museum, Warsaw, and 2015 Venice Biennale.
More details about the artist on his personal website: alexmirutziu.com